Many things are new in our ninth SERIENCAMP SEASON - the first in beautiful Cologne - at least four things have remained the same: The prizes that will be awarded during the festival to the best series we screen. In addition to the Audience Choice Award, which for years has been co-designed by the audience via voting, and the Digital Short Form and Official Competition prizes, which are awarded by prominent juries, this also includes the Critics' Choice Award, which is now being presented for the third time by well-known film and TV critics.
Jury Award:
SERIENCAMP OFFICIAL COMPETITION AWARD
A distinguished jury of industry representatives will decide on the best of a total of six entries from our Competition, which will compete for the award as the best international series of the year at the invitation of the SERIENCAMP. Our shortlist is made up of the following titles.
POWER PLAY (NOR 2022)
VGLY (MEX 2023)
SELFTAPE (ESP 2022)
1286 (KAZ 2022)
THE ACTOR (IRN 2022)
I`M A VIRGO (USA 2022)
Our Jury for the Official Competition Award: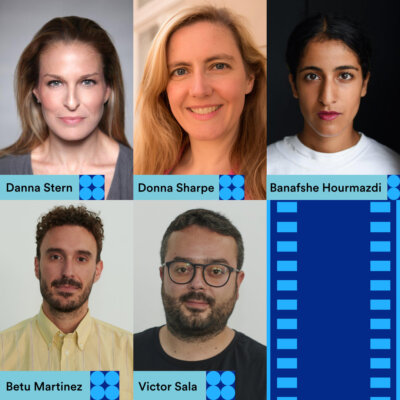 Audience Award:
SERIENCAMP AUDIENCE CHOICE AWARD
For selection here are (almost) all new series coming to us for performance. Voting is done by rating on the respective tickets, which are simply marked or torn at the appropriate place and thrown into our voting boxes after the screening.
Jury Award:
SERIENCAMP DIGITAL SHORT FORM COMPETITION
Seven entries curated by the SERIENCAMP from the broad field of web and short form series are up for selection here. A jury of four experts will select the best production of the year.
When you consider how manageable the budgets and the prominence of those involved in the digital shortform sector usually are, you almost have to consider the supposedly "smaller" series siblings as the greater art form. Their great achievement lies not only in limiting themselves to the essentials, but also in making these limitations barely visible. The short-form series we have selected as examples are (not only) masterful examples in this respect. In any case, one thing is already certain: one of the Shortform series will receive the Digital Shortform Award awarded by our expert jury.
Our Digital Shortform projects this year are:
MARTINE À LA PLAGE (CAN)
AUTODEFENSA (ESP)
ARHAN (KAZ)
MARSEILLE MON AMOUR (F)
A STRANGE SUMMER (FIN)
ONE OF THE BOYS (DK)
WATCH ME (D)
The Digital-Short-Form-Jury:
Critics Award:
SERIENCAMP CRITICS' CHOICE AWARD
For the third time now, four German critics and series experts award the CRITICS' CHOICE AWARD. It goes to one of the six series pre-selected by the SERIENCAMP from the program and will be negotiated and awarded live in front of the audience on June 17 at 8:30 pm. An episode of the winning series will be shown afterwards. These titles are up for selection:
ARCADIA (B/NL/D 2022)
MÒPIES (ESP 2022)
BARGAIN (KOR 2022)
SOUS CONTRÔLE (F 2022)
BEAST (NOR 2022)
YOU & ME (UK 2022)
The Critics' Choice Jury: